'Six days before the

Passover

, Jesus came to

Bethany, where Lazarus lived, whom Jesus had raised from the dead. Here a dinner was given in Jesus' honour. Martha served, while Lazarus was among those reclining at the table with him. Then Mary took about a pint of pure nard, an expensive perfume; she poured it on Jesus' feet and wiped his feet with her hair. And the house was filled with the fragrance of the perfume.'
John 12: 1-3
I knew from the first time I met Jesus that he was special.
No, I knew before then - I'd only heard about him but I knew in my heart. I have a feeling for things, and the older I get the more I've learned to trust that feeling. I heard about this teacher and the way that he stunned crowds with his words and I felt a longing to be close to him, to know him. I wondered for a while if it was the usual longing that a woman might have for a man, but disregarded that idea; it was more than that. It was something about the essence of him. I felt as if being close to him would feed me on a fundamental level, as if he were the answer to a question I'd never known to ask. It was as if my soul was reaching for him.
I knew when he came to our house that everything in my life until that day had been unimportant up to that point. I didn't want to miss a single word. I knew that my sister was rushing around preparing the food and arranging the table, and I understood what she was doing - we'd enjoyed making those plans together only the day before. We wanted it to be just right, and yet here was I discarding our timetable and abandoning Martha - to sit at Jesus' feet. Nothing else seemed important. At first I wanted to catch hold of her sleeve as she swept past and whisper to her to stop, stay; but soon even that thought was lost, so captivated was I with my Lord.
Jesus saw me; he saw my very heart. He knew all about me - all about the rubbish in my past that I don't speak about, every hope, disappointment, dream and hurt. He saw every shadow in my soul and still he loved me.
I think I knew then that Jesus was the Son of God, but I didn't know what to do with that knowledge and while I held it in my heart, turning this this way and that, events just took over.
There was the awful day that my brother died. We were beside ourselves, Martha and I. He was so ill, we knew that Jesus could help. We tried and tried to get a message to him, but still he didn't come, and then.. it was too late. Ah, but it turned out that it's never too late, didn't it? Not for him.
My beloved brother had died, and we were lost in grief. We were overwhelmed. And then he came. You know what happened then - can there be anyone who denies that Jesus is Lord?
And here he was again at our table. I couldn't grasp how blessed we were that Jesus would call us friends. That he would treat our home like his own and relax at our table. I watched Mary pour his wine, and I saw the light in her eyes as he laid a hand on her arm in thanks. I saw my brother - the one who was dead and yet lives! - I saw him lean towards Jesus in concentration. I watched my Lord as he gestured, as his brow furrowed and smoothed, as his eyes twinkled and became serious, as he laughed, taught, teased and looked into the souls of these men who believed in him.
I drank it all in, and I saw Him. I saw how precious he was, not just to me, but to the whole world. I saw that he was our Saviour, whatever that might mean. I understood something at the deepest level - I knew that time with our friend was drawing to a close. I felt the urgency, a foretaste of awful grief to come, yet mingled with deep excitement and hope. A sense of something terrible and mysterious.
I had to do something. It had to be something big, something extravagant to demonstrate how much I loved him. I felt as if my heart would burst. Without really thinking, I took hold of the precious jar of perfume that we were saving and I broke its lid. Immediately the fragrance began to fill the room. It was delicious and ominous, that scent of spices. Sweet and heavy. I had often brought this jar to my cheek to try to smell the contents but it's only when a jar is cracked that the fragrance can spill out.
Quickly I sank to my knees at Jesus' feet. All eyes turned my way, but I didn't lift my head. Cradling his feet on my lap I poured the perfume over them. I was outside myself, watching as I did this crazy thing, and yet never more in the moment. Swiftly, trying to catch all the rivulets of oil as they flowed over his feet, I massaged with both hands. I used my thumbs, my palms, the tips of my fingers. I felt the callouses of a man who has walked for many miles in sandals that have not always fit well. His feet were hot and dusty and the sweet oil smooth and refreshing. I will remember that moment all my life - the intimacy of it. I knew that Jesus was staring at me, and I knew that all conversation had stopped, and it was for those precious moments as if there were only the two of us in that place. I knelt and massaged my Lord's tired feet with my best perfume.
Tears ran down my face. This was all I could do for him. It was the best I could offer. The most profound demonstration of love and recognition. This man was heading to Jerusalem. Time was short. I had no words, only this moment.
Who was I to even touch his feet? Yet here was the Son of the living God at my table, with his tired eyes and calloused feet. How I loved him. I didn't stop to think of the consequences - that perfume was more expensive than anything else we had in the house and I had used it all up on my Lord. But he was beyond price. It was worth it; I would do it again if I could.
The tears fell and the oil soaked into his skin and my hands stilled. I bent over and wept and tears dripped onto the feet I had just anointed. My hair had come loose from its braid and fell forwards over my shoulder and I used it to wipe away the splashes. My breath was ragged and the scene blurred as I cried. I smoothed my hair across his feet, spilled more tears on his toes, bowed low in front of him and kissed his feet as I wept. I was undone.
Even when Judas, the keeper of the purse, spoke harshly about me, I didn't raise my eyes. It made no difference to me what anyone thought but he whose feet I cradled in my lap. When I heard his voice it was as if he had reached and lifted my chin so that my eyes met his.
'Leave her alone,' he said.
'She has anointed me for burial.'
He understood. I laid my cheek against his perfumed feet and I knew that one day in this manner I would cradle his lifeless body.
Mark 14:1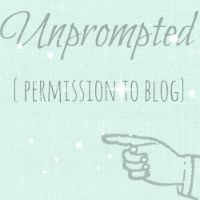 Linking with
Ruth Povey
and
Sabrina Fowles
for the
Unprompted
link-up. Every second Tuesday.